The customer
24SevenOffice
was the first European firm to provide 100% cloud-based enterprise resource planning (ERP). Established in 1997, the company serves 42,000 organizations worldwide. At the core of 24SevenOffice's flagship ERP platform lies an advanced accounting system integrated with 200+ third-party services.

The problem: Manual e-mail logging
As part of their daily routine, managers communicated with clients via e-mail and then had to log the necessary customer information into the ERP system. Constantly switching between an ERP account and an e-mail service during a busy working day was inconvenient, tiresome, and unproductive.
Aspiring to automate logging, as well as achieve traceability and transparency of communication, 24SevenOffice wanted to integrate its ERP system with Outlook 365.
The solution
Making use of
Outlook add-ins
, Brimit developed a
custom integration solution that allows for logging e-mails and events
. This new add-in extends the default functionality of Outlook and enables managers to log an e-mail or an event into the ERP system. The solution offers users several other options in addition to its main functionality. For instance, it is possible to
log an e-mail into various projects or accounts
, as well as view a list of all the unlogged e-mails. The add-in also enables users to
search for ERP accounts and projects directly from Outlook and switch to them
immediately.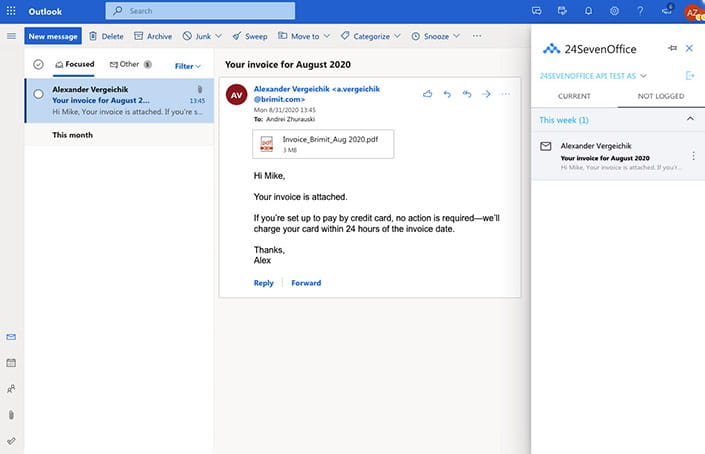 The result
In partnership with Brimit, 24SevenOffice automated standard e-mail logging by developing a custom integration add-in for Outlook 365. This enabled traceability and transparency of communication, and did away with the inconvenience of logging information manually.
project Highlights
Saving time by eliminating the need for logging e-mails manually
Achieving traceability and transparency
Eliminating the burden of switching between an ERP account and an e-mail service
Technology Highlights
Integrating Office 365 with a custom ERP system