The current status of adopting multi-channel targeting tools into Sitecore
A web user's customer journey includes many touch points across a variety of online and offline channels. Companies that use Sitecore have the best-in-class technology to enable multi-channel experience for their users. However, very few clients have adopted a true multi-channel strategy. It is not enough to just establish presence in multiple channels and record interactions within Sitecore xDB. It is critical to enable seamless transitions between channels while maintaining optimized and personalized context throughout the customer journey itself.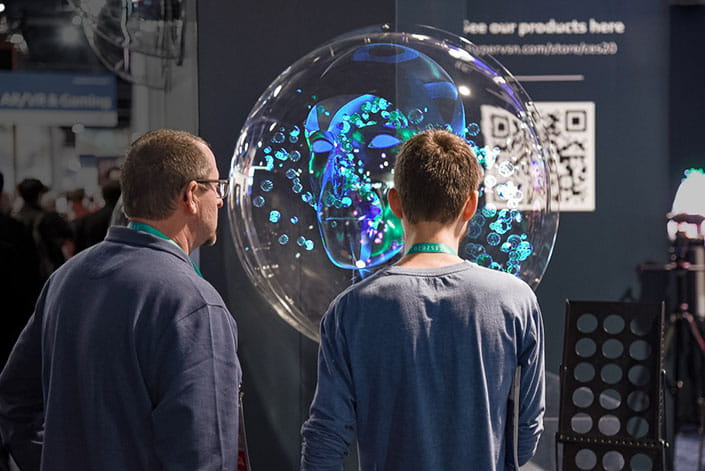 Brimit's solution for seamlessly connecting online and offline experience
The demo product presented by Brimit during Sitecore Symposium 2018 featured a smooth transition of user experience from an e-commerce website to an offline store. Brimit used a device called
HyperVSN Solo
, which offers the customer innovative 3D holographic imaging as an alternative to traditional LED screens.
The content presented by the holographic device was personalized based on products purchased online and a customer experience profile available on the Sitecore Experience Platform.
Our demo product is a solution for the following user journey, or ones similar to it:
A user orders a phone online and opts for in-store pickup.
He or she comes to the store and checks in to pick up the phone.
Based on the product purchased online and the customer experience profile stored in Sitecore, the hologram device displays another product that may also be of interest to the user.
For example, a male user, who purchased an Android device online, is shown a space gray Samsung Gear S3. A female user, who purchased a red iPhone, is shown an image of an Apple Watch with a red wristband.
Sitecore allows for content personalization scenarios on many more characteristics than stored in the user profile—occupation, pages visited, documents downloaded, forms submitted, items added to a cart or a wishlist, etc.
Under the hood of our demo product
Connecting online and offline user journeys requires a number of technologies put together to make it work. Sitecore Experience Platform has a built-in tool, the Message bus, which we consider to be a hidden gem. The Message bus is a message transport mechanism that allows Sitecore application roles to communicate across boundaries.
Highlights
A smooth transition of user experience from an e-commerce website to an offline store
Integration with Salesforce, Dynamics 365, Outlook
Customer retargeting using innovative holographic imaging