A global music streaming platform provides royalty-free soundtrack music and sound effects. Among the company's clients are individual creators and multinational companies that buy music for various content—podcasts, TV shows, vlogs, radio, ads, movies, etc. The platform also offers artists the opportunity to distribute their music and sound effects. Thus, the company is focused on nurturing customer relationships in B2B and B2C markets.
The company had been using a software product for marketing communications, but it wasn't flexible enough and had limited integration capabilities. The soundtrack provider subscribed to Salesforce Marketing Cloud since it provides tools for personalizing marketing communication across multiple channels and devices—customer journey management; campaign management via email, social media, and mobile; web personalization, advertising, content creation and management; and data analysis. All these tools were integrated with each other and the company's CRM. Eventually, the company turned to Brimit to get onsite guidance and consultation.
Ensuring a smooth migration to Salesforce Marketing Cloud
After analyzing the customer's needs for communicating with B2B and B2C customers, as well as the current systems used to manage subscriber data and perform everyday email functions, Brimit provided detailed recommendations for migrating to Marketing Cloud. We also equipped the customer with the following list of deliverables, which any company planning a similar migration should have on hand:
A plan and release timeline for transitioning from the current toolset to Marketing Cloud
A demo of the messaging activities that can be initiated from MCA
A Q&A channel for the company's marketing team
Know what you are signing up for
Before making the move from the current toolset to SFMC, we encouraged our customer to answer the following questions to define what a Marketing Cloud subscription plan should include to meet their needs and be economically feasible:
Does your subscription include a private domain? With a private domain, your addressee's internet service provider gets a trackable identifier that shows your emails are legit so that they aren't flagged as spam and actually reach inboxes. A private domain also enables you to create landing pages with branded URLs.
Do you have enough contacts (i.e., recipients of your future emails) to return the investment in the SFMC subscription plan you selected? You need to calculate the cost per contact and make sure you're OK with it.
Did you include the necessary level of support from the Salesforce team in the subscription? If you subscribe to the Basic Salesforce Marketing Cloud edition, it won't be hard to figure out how to manage marketing messaging on your own. The Professional, Corporate, and Enterprise editions provide more advanced options for automation and customization, so you will probably need to purchase additional technical support plans to utilize all the features included in your subscription.
Will you need an in-house technical team to manage all the features you add to your SFMC subscription? Features such as AI capabilities for personalized communication will most likely require a technical specialist on your team. Or maybe you can stick with the out-of-the-box features to keep the cost down.
We advise you to answer the same questions before purchasing Marketing Cloud.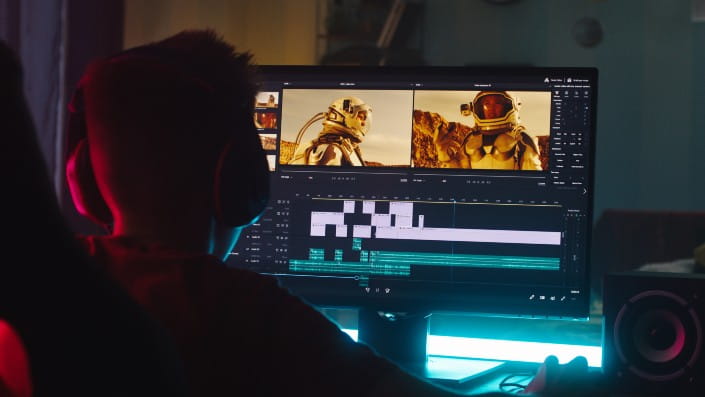 Configure accounts and make sure everyone is clear on roles and responsibilities
Before providing SFMC to the customer's users, we drew their attention to the fact that not everyone on their team will need the same level of access to the product. We suggested considering the permissions that would need to be set up for the various people in the organization. Within SFMC, it's possible to set permissions at the group or user level. If the off-the-shelf roles defined within SFMC don't meet your company's specific requirements, it's also possible to create custom roles.
It's also essential to have clarity on the organizational structure in your SFMC. For that reason, it is recommended to define in advance the number of business units needed, as well as to determine the naming convention for assets such as folders, data extensions, and images.
This helps avoid confusion when the time comes to start using SFMC and Email Studio.
In addition, we encouraged the customer to move all the necessary data from the old tool to Marketing Cloud. Then, it was important to create a sender profile to standardize the name and email address to send emails from as well as a delivery profile to define what information about the sender the addressees would see. After that, we helped the customer set up the necessary system/activity alerts, register their account on trust.marketingcloud.com to receive platform alerts, and warm up their IPs before starting a normal sending routine.
Marketing Cloud initial setup: Sender Authentication Package and Marketing Cloud Connect
To prevent emails from getting flagged as spam, we advised the customer to set up Sender Authentication Package (SAP), a collection of tools for branding a domain and images and links in emails. When activating the package, we adhered strictly to the following sequence of actions:
Set up a private domain
Create a dedicated IP address
Get all your links branded
Enable Reply Mail Management to automate unsubscriptions and more
For more about the benefits of SAP, check out our post about SAP for Marketing Cloud on Salesforce Ben.
The next step involved installing Salesforce Marketing Cloud Connect in the customer's Salesforce CRM, which allows companies to enrich customer data and communicate with clients in a more personalized manner via emails or text messages. Connecting Salesforce Sales or Service Cloud with Salesforce Marketing Cloud, makes it possible to easily move data from Sales or Service Cloud into a Salesforce Marketing Cloud account.
Before connecting the clouds, dedicated profiles with sets of permissions should be created on both Sales/Service Cloud and Marketing Cloud. If you would like to add new logic in Sales Cloud only for records that are updated or created via Marketing Cloud Connect, it won't affect the rest of the Cloud.
Marketing Cloud: Reporting capabilities
To track the effectiveness of the customer's marketing campaigns, we highlighted the importance of the Journey Analytics Dashboard. Powered by Google Analytics, it unites Marketing Cloud SMS, push messaging, and email functions with analytic behavioral data.
RELATED BLOG POST Messaging in Salesforce: Ways To Send Text, WhatsApp, Viber Messages
Journey Analytics Dashboard provides the following metrics: deliveries, opens, clicks, unsubscribes, send performance, and unengaged subscribers.
For better processing of campaign results, it's useful to re-create the same reports on the CRM side (in Sales Cloud). For this purpose, we use Individual Email Results (IER) reports, which provide information about a single email that is sent to an individual so you can easily check if someone received, opened, or clicked on an email. When viewing a contact in Salesforce, IERs help you view recent activity and dig deeper. In addition, we suggested applying Intelligence Reports (formerly Datorama) for Marketing Cloud, which enable users to generate, view, and share a detailed email data analysis. Intelligence Reports include dashboards, pivot tables, and reports to:
Analyze data with built-in dashboards that visualize aggregated email data
View comparisons, trends, and patterns
Filter, sort, and summarize data
Share findings on a schedule
Adopting Marketing Cloud involves more than acquiring technical details. Every person involved is a key aspect of a successful migration. When your team understands the reasons for migrating and using a new product, the process will go smoothly. This is why communicating should be a significant part of any migration process.
project Highlights
Optimized the costs for the customer by selecting the right Marketing Cloud subscription plan
Ensured customer's smooth migration to Salesforce Marketing Cloud and its initial setup
Improved the tracking of marketing campaigns' effectiveness by applying relevant reports and metrics
Technology Highlights
Migrating to Salesforce Marketing Cloud
Setting up Sender Authentication Package (SAP) and Marketing Cloud Connect