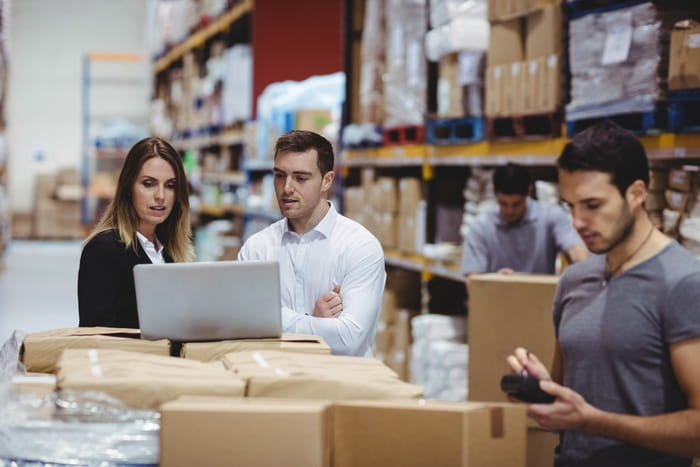 When running a B2B customer portal, it's essential to create the right infrastructure around it to provide your business customers with necessary services such as payments and delivery. Instead of using disparate software products, it saves time to integrate the necessary products with the portal. Here, I would like to highlight some B2B integrations that will turn your business customer portal into a holistic e-commerce system and share how to do this with Salesforce.
READ MORE Salesforce Commerce Cloud Explained: Pricing, Hosting, Performance, Scalability
Out-of-the-box Features vs. Pre-built Connectors vs. Custom Integrations
When integrating third-party products, you have three options: You can use out-of-the-box tools, buy connectors for preferred products, or create custom integrations. In the first and second cases, you can quickly configure and launch your integration, though the functionality of ready-made solutions might not cover your specific needs. In the third case, you get precisely the functions you need, though you'll have to pay for their development and the development process will take time, besides, you will need to find further technical support for a custom solution.
Regarding the use of out-of-the-box integration tools for Salesforce B2B Commerce, you can choose from Salesforce products, AppExchange solutions, or third-party connectors.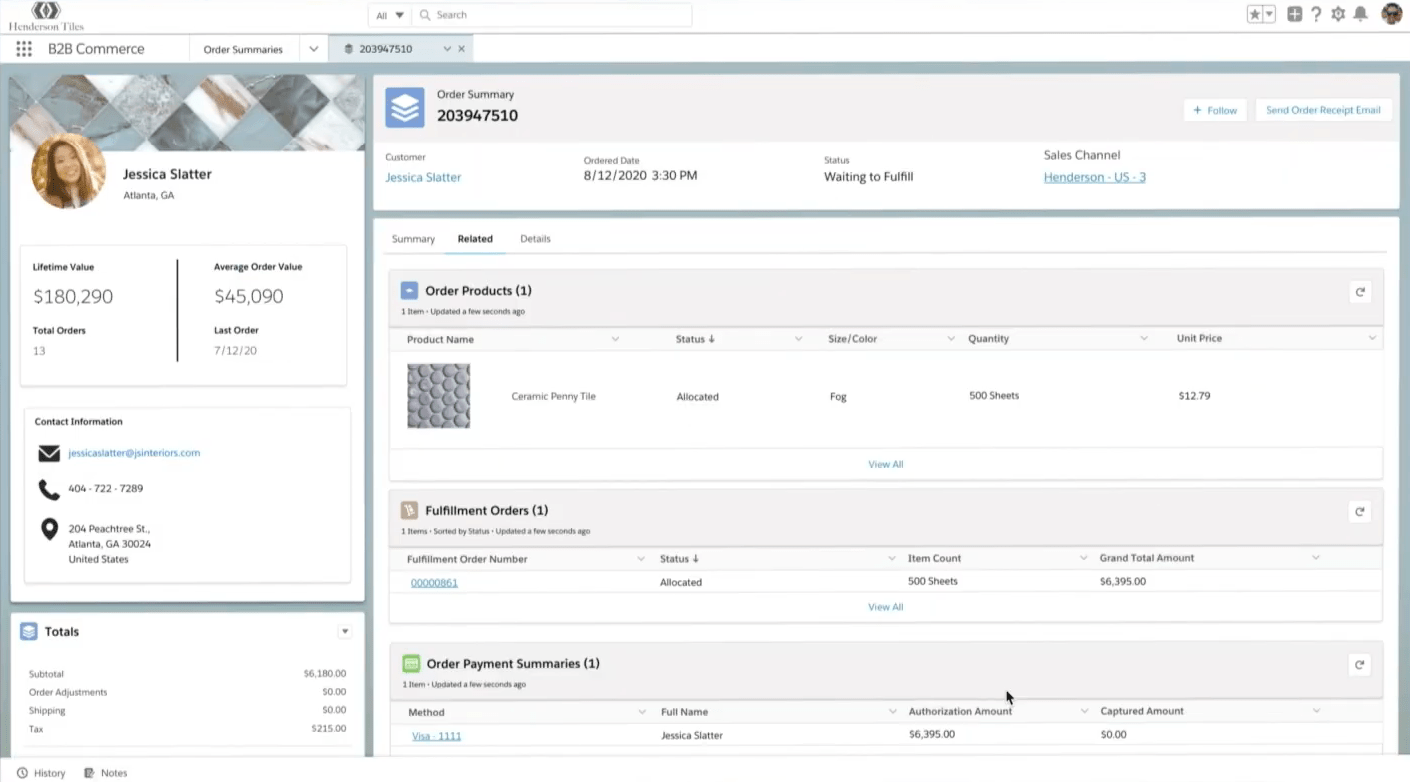 Payment Integrations
According to Statista, the total transaction value in the digital payments market is expected to show an annual growth rate of 11.80%, resulting in a projected total of US$14.78tn by 2027, with digital commerce accounting for the largest share of the total. Integrating your business customer portal with popular B2B payment platforms is a necessary step to keep pace with the market trend.
Payment integrations for Salesforce B2B Commerce
To ensure you provide a variety of payment systems for your portal's users, consider the following options. First, Salesforce provides its own product for B2B Commerce—Salesforce Payments, which supports payment tokenization, authorization, captures, and refunds with Stripe and other providers. Second, there are several AppExchange solutions. We prefer Chargent, Blackthorn Payments, and our own Brimit Stripe Connector (reach out to us for details). You can also look for third-party connectors that use the payment systems you need, including Stripe, Adyen, and PayPal.
| | | |
| --- | --- | --- |
| Salesforce products | Salesforce AppExchange solutions | Third-party products (connectors) |
| Salesforce Payments | Chargent, Blackthorn, Brimit Stripe Connector | Stripe, Adyen, PayPal |
Marketing Integrations
According to Forbes, personalization is the key concept in B2B marketing for 2023 and beyond. Concerning the work of the B2B portal, following the personalization trend can mean collecting and analyzing customer data, personalizing messages, and communicating via the channels portal users prefer. In this regard, I would recommend integrating a B2B portal with the following software products:
User analytics
Personalization tools
Messaging and communicating tools
Marketing integrations for Salesforce B2B Commerce
User analytics. You can sync Salesforce with analytics services such as Google Analytics, Google Tag Manager, and Hotjar. Use Google Analytics OOB in the Salesforce community, GA connector, or custom connectors.
Personalization. Salesforce provides a Marketing Cloud Personalization module that can be integrated with Commerce Cloud to understand anonymous and named user events and web conversions; collect product, content, and other catalog information in real time; and deliver personalized experiences on demand. Besides, you can buy a custom-built connector to integrate your portal with marketing personalization tools.
Communicating via various channels. When using Salesforce, you can send messages via the most popular channels, including email, SMS, Facebook Messenger, WhatsApp, WeChat, and more. You can use both Salesforce products and managed packages, as well as third-party integration products, for this.
READ MORE Messaging in Salesforce: Ways To Send Text, WhatsApp, Viber Messages
| | | | |
| --- | --- | --- | --- |
| | Salesforce products | Salesforce AppExchange solutions | Third-party products (connectors) |
| User analytics | Google Analytics OOB in the community | GA connector | Custom-built |
| Provide personalized recommendations and offers | Marketing Cloud Personalization module | | Custom-built |
| Communicate via various channels | Marketing Cloud | Marketo | Twilio |
Shipping and Tax Integrations
According to the Baymard Institute, slow delivery is one of the most common reasons for cart abandonment in the US. For this reason, B2B companies need to be more flexible in terms of delivery options and have various shipping partners. For B2B commerce, I recommend customer portal owners connect their portals with multiple shipping services. You should also integrate your portal with tax calculation software.
Shipping and tax integrations for Salesforce B2B Commerce
Salesforce B2B Commerce can be used with the Salesforce Shipping and Tax API, the custom Shipping Reference Package, and Tax Reference Package by Salesforce. Among the different AppExchange solutions, look carefully at Delivery Service Management. If you would like to consider a third-party product, I recommend Avalara, which can be integrated with the help of middleware.
| | | |
| --- | --- | --- |
| Salesforce products | Salesforce AppExchange solutions | Third-party products (connectors) |
| Shipping and Tax API, Shipping Reference Package, Tax Reference Package | Delivery Service Management | Avalara |
CRM Integration
If we continue considering the personalization trend in B2B commerce, it's important to mention that not only will you need to analyze portal users' behavior but you will also have to store and manage consolidated information on every client. Otherwise, you won't be able to provide personalized offerings and communication and accompany portal users along their customer journeys. This is where a CRM system comes into play. CRM enables you to track business buyers and figure out exactly how and when to influence them to move to the next stage of the funnel. CRM can also be used to automate certain tasks.
Salesforce CRM for B2B commerce
Since Salesforce is itself a CRM system, you will not need other CRM integrations when working with Salesforce B2B Commerce. All your contacts will be collected and synchronized in Salesforce's unified database. If you started B2B commerce outside of the Salesforce ecosystem—for example, on Shopify or WordPress—you will have to develop a CRM or integrate a ready-made tool with your B2B commerce software. Here, Salesforce is a good choice.
CPQ Solutions
According to Salesforce's report on why digital will become the primary channel for B2B engagement, tailored product offerings, order automation, and contract pricing are the key features that should enable online B2B sales. To streamline sales processes, I suggest integrating a B2B portal with Configure Price Quote (CPQ) software, which quickly generates quotes for orders, taking into account quantities, discounts, customizations, multiple types of revenue, and optional product features.
CPQ integrations for Salesforce B2B Commerce
When using Salesforce B2B Commerce, you can easily add Salesforce CPQ to your B2B toolkit. The tool automatically generates accurate prices and discounts. If you prefer to work with third-party products, you can try Conga CPQ, Oracle CPQ, or custom CPQ modules.
| | | |
| --- | --- | --- |
| Salesforce products | Salesforce AppExchange solutions | Third-party products (connectors) |
| Salesforce CPQ | Conga CPQ, Oracle CPQ | Custom CPQ modules |
ERP System
47% of B2B businesses consider improving order fulfillment a tactic for enhancing customer engagement. To process complex bulk orders from a customer portal and distribute them across a fulfillment network, you'll need an enterprise resource planning (ERP) system. An ERP system will also ensure increased data integrity and increased collaboration during order processing.
ERP integrations for Salesforce B2B Commerce
To handle order capture, fulfillment, shipping, payment processing, and service, Salesforce B2B Commerce can be integrated with Salesforce Order Management. You can also use Commercient ERP integration or various ESB or middleware to connect with third-party ERP systems.
| | | |
| --- | --- | --- |
| Salesforce products | Salesforce AppExchange solutions | Third-party products (connectors) |
| Salesforce Order Management | Commercient | Integrator.io, various ESB/middleware |
Single Sign-on
If you use several websites for B2B customers, it will be convenient for business buyers to have a single sign-on across the websites with a proper level of security. In this case, you will need a system where single sign-ons of each user will be managed.
Single sign-on integrations for Salesforce B2B Commerce
Salesforce supports SAML single sign-on and OpenID Connect out of the box, which means you can unify a sign-on for several B2B websites, including third-party sites, and manage them in Salesforce. I also recommend Okta and Azure Active Directory if you prefer to provide and manage single sign-on with the help of third-party products.
| | |
| --- | --- |
| Salesforce products | Third-party products (connectors) |
| OOB supports SAML/OIDC | Okta, Azure AD |
Find out how to get a comprehensive B2B portal that will help you optimize costs and gain a competitive advantage.