The customer
CPL Aromas
is a family-run fragrance house that was officially opened in 1971. Today the company is ranked among the sector's top 10 major players and is the largest fragrance-only house in the world. Operating in 18 international locations, it serves customers in over 100 countries.
The need
CPL Aromas used to communicate with its clients through traditional channels such as phone and email.
These old-fashioned means of communication placed an additional burden on the sales department. In addition, order information was updated in the ERP system manually, so sales capacity was limited by the number of sales managers.
Such management was extremely inefficient and hindered CPL's future development. To attract additional traffic to the website, the company decided to update its business processes by integrating digital sales channels into its system.
The solution
Brimit's team conducted an on-site workshop where it analyzed CPL's digital set-up. The information Brimit gleaned was used to create a plan for helping the company move its sales management online. The solution included a software architecture plan and a set of functions for the future system. It also provided a scheme for integrating the new product with the existing systems—taking into account the changes in the company's business processes that were necessary to go digital—and an interactive prototype.
When developing an enterprise-grade solution, it is worth considering starting with a prototype. Prototyping allows a company to test a product and collect valuable user feedback prior to launching it. Such an approach reduces time to market and, most importantly, saves software development costs. Also, prototyping allows stakeholders to visualize the idea and engages them in the development process.
The prototype was intended to be tested on real users to see whether it could perform the main task of establishing an online order workflow and minimizing communication with sales. In particular, Brimit's team wanted to make sure that users were able to effectively carry out the following tasks:
place orders

track an item's current status

consult with an account manager online

process payments

distribute information about new products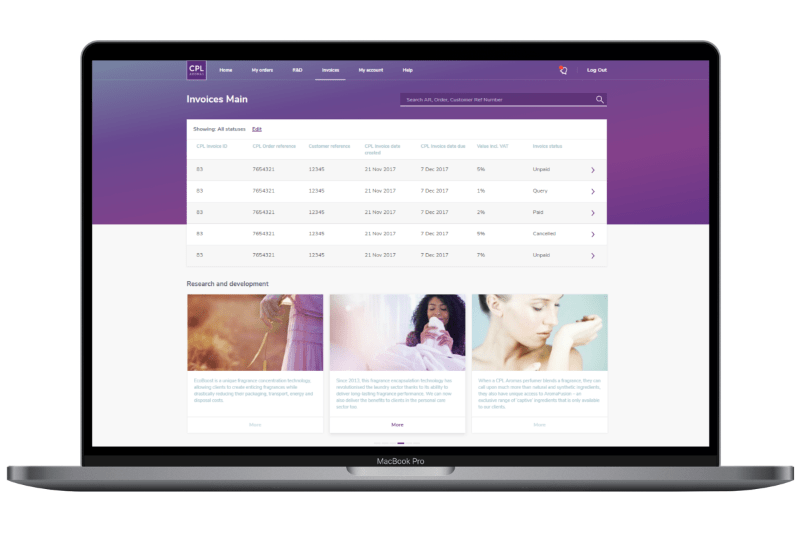 The result
Collaboration between CPL Aromas and Brimit resulted in the creation of an actionable plan for migrating sales online, which CPL Aromas has now successfully implemented. A highly detailed prototype allowed the company to test the solution on real users and determine the exact set of functions necessary to avoid costly fixes during development.