The customer
Based in Abu Dhabi,
Eagle Hills
is a real estate investment and development company that sees its mission as revitalizing cities and communities through innovative lifestyle solutions that meet the demands of modern living. Since its founding in 2014, the developer has built 28 hotels and 14 waterfronts and helped modernize 11 cities in Europe, Africa, and the Middle East. The company's portfolio features grand-scale projects in the UAE, Serbia, Bahrain, Oman, Morocco, Jordan, and Ethiopia.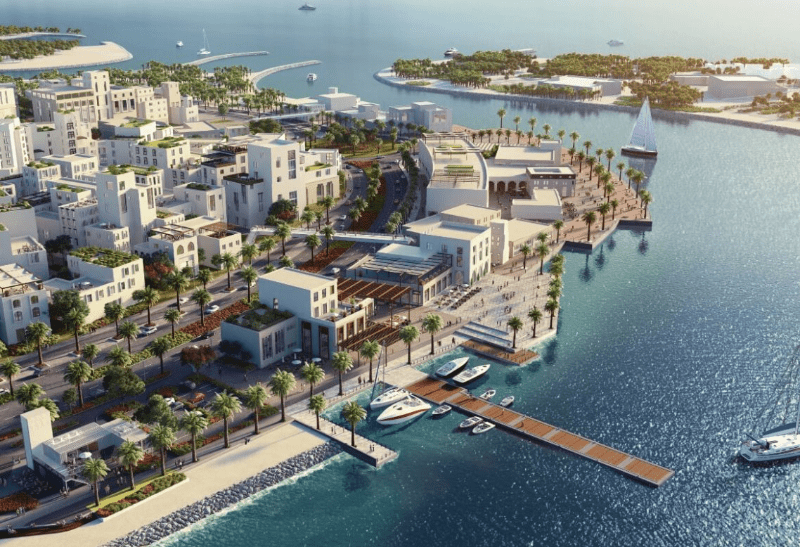 Looking for a centralized content management across multiple regions
Eagle Hills was actively planning to expand and enter new markets. To execute its marketing strategy efficiently, the company needed a digital platform for multilingual content management and lead generation in multiple regions.
Eagle Hills wanted to build a system that would enable potential customers to get exhaustive information about real estate development offerings, as well as supply its in-house marketing and sales teams with meaningful insights to generate leads and build a customer base. Brimit got involved in the project through a partnership with SixthFrame, an agency providing UX/UI services.

Targeted campaigns and GDPR compliance
Eagle Hills operates in different regions worldwide, whose unique cultures, lifestyles, climates, and other factors shape the expectations and requirements for real estate development. To launch relevant marketing campaigns, it was crucial for the platform to identify which project is gaining traction in a particular region.
Furthermore, to deliver its services in the European Union, the system had to comply with the General Data Protection Regulation (GDPR).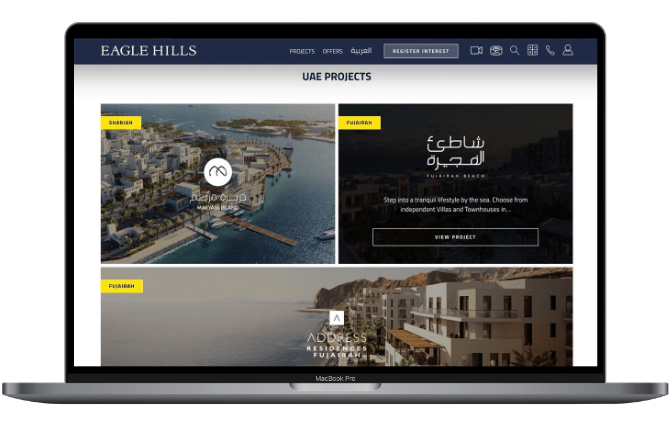 A Sitecore-based website integrated with Dynamics CRM
As the customer was seeking centralized management of multilanguage content across multiple regions, Sitecore was the optimal choice for building a website with an analytics-based lead generation pipeline and rich functionality for personalization and customization. Through the website, users could find real estate options to meet their needs across numerous parameters, such as location, number of bedrooms, floor space, available amenities, and price range. The web portal is available in English, French, Arabic, and Serbian.
At the core of lead generation lies integration with Dynamics CRM. When a user chooses an apartment according to his or her preferences in a particular region, the information is saved to the CRM. To launch targeted campaigns based on this data, Brimit enabled and fine-tuned the Email Experience Manager available in Sitecore.
As part of the measures taken to comply with the GDPR, Brimit deployed Dynamics CRM as a multitenant service. This way, data gathered about users from the European Union is stored and aggregated on servers located in the region—as required by the regulation.
Analytics-driven lead generation
Collaborating with Brimit helped Eagle Hills to build analytics-driven lead generation and deliver personalized campaigns across multiple regions. Now, the real estate developer has an advanced platform with an efficient sales channel to expand its influence to new markets beyond the Middle East. The new system also complies with the GDPR, which will allow Eagle Hills to operate legally in the European Union.
project Highlights
Centralized management of multilingual content across 3 global regions
A lead generation pipeline powered by analytics
Personalized marketing campaigns based on user preferences
Compliance with the General Data Protection Regulation
Technology Highlights
Integrating Sitecore with Microsoft Dynamics 365