Сontent translation on steroids?
In 2018, Alibaba Group invested $750 million into Trendyol to help the company accelerate its influence in the Turkish and European markets. At its launch, Trendyol's operations took place solely in Turkish, with no localization available. Obviously, this is a significant obstacle when entering new markets and appealing to target audiences from different countries. With 2,000 merchants using the e-commerce platform and creating hundreds of product listings simultaneously, it is extremely important to ensure continuous availability of the translation process. How do you ensure localization for millions of products without rebuilding the whole system? How do you establish mature workflows and mitigate the risk of downtime? This task requires a no-compromise, headless CMS solution with full flexibility in managing products and content, best-in-class workflow and translation capabilities, and the ability to scale and integrate without limitations.
Since Sitecore is originally a headless CMS, it is the perfect fit for websites with large amounts of content. It enables contributors and editors to effectively manage multiple language versions of a website. We developed a solution not only for hosting millions of product content items but also for translating them into dozens of languages, as well as for editing, approving, and publishing the translated product content. To do this, Sitecore was integrated with a third-party translation engine and Trendyol's proprietary inventory management system.
Originally, Trendyol's entire inventory was in Turkish. A Sitecore-based solution enabled Trendyol to effectively translate the inventory into English and German, which expanded the e-commerce platform's audience.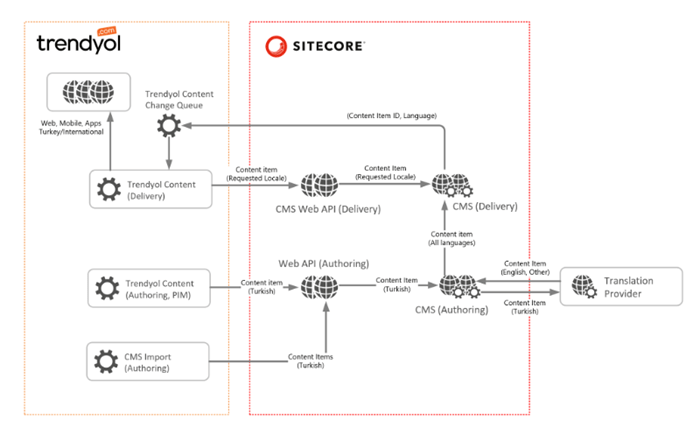 To meet rigorous performance and scalability requirements, we configured three content management (CM) servers. One of them hosts the Sitecore admin area. The other two servers receive the content from Trendyol's proprietary inventory management system and send it to a translation engine. A load balancer ensures continuous availability of the CM servers. Content editors use the CM server with the Sitecore admin area to review, edit, and approve the translation. Dozens of content delivery (CD) servers provide the inventory management system with the translated content.
Initially, a batch of 300,000 product listings was translated and published on Trendyol's e-commerce website. Now, the listings are translated as soon as they are created. The system was tested with over two million products translated into three languages.
About Trendyol
Trendyol (www.trendyol.com) is the largest and fastest-growing mobile commerce company in Turkey and the MENA region, serving 16 million customers and over 2,000 merchants.

Alibaba Group, the world's largest online and mobile commerce company, entered into an investment agreement with Trendyol, acquiring shares from existing investors. As part of the agreement, Trendyol and Alibaba will cooperate to accelerate Trendyol's growth both in Turkey and throughout Europe.

Trendyol's commerce platform is a proprietary solution that was initially designed with only one language in mind. In accordance with the company's expansion strategy, Trendyol was seeking a solution that could support a dozen languages, without rebuilding the whole system.
About Brimit
Brimit is a Sitecore Gold Partner with 10+ years of experience building Sitecore-based solutions. Our company delivers Sitecore integration services for independent software vendors and Sitecore users. We connect Sitecore to CRMs, ERPs, search and translation engines, DAMs, order management systems, payment gateways, fraud detection tools, and several other types of software. In short, Brimit's experts will help you automate business processes and gain a competitive advantage.