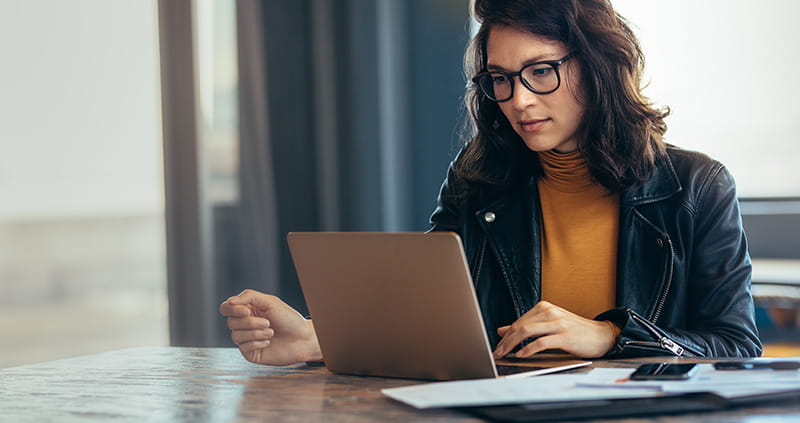 In this article, we explain personalization driven by market research and show how a provider of clinical equipment tripled their traffic during the pandemic.

Why personalization matters
Today's market, with its abundance of choices, is highly competitive. It is becoming increasingly difficult for businesses to both attract new clientele and retain existing customers. In this new reality, simply offering a product or a service is no longer enough. Many businesses are now striving to establish an emotional connection with their customers, tailoring the customer service experience to meet their high expectations. In this type of journey,
personalization
is not just an option; it is a must.
Personalization is all about knowing your target audience, including its demographics, interests, and behaviors. Armed with this data, a business can fine-tune a digital strategy to deliver campaigns that make a true difference.
According to a recent survey report by Evergage, 92% of marketers state that their customers and prospects expect a personalized experience. Statistics from Accenture echo those observations: 65% of customers tend to stick with retailers who send out relevant and personalized promotions and analyze purchase history. Furthermore, 56% of consumers are likely to remain loyal if a business recognizes them by name, and 58% appreciate receiving recommendations based on past purchases.
The efforts seem to be paying off. Personalization campaigns increase conversion rates by 63%, revenue by 43%, customer acquisition by 43%, and engagement by 55%.
Let's take a closer look at what can be achieved by enabling rule- and CRM-based Sitecore personalization.
How rule-based personalization works
Rule-based personalization is a primitive, traditional method rooted in manual testing. This type of personalization targets specific groups or segments of people. The tailored experience is created by adjusting sets of simple rules. In other words,
rule-based personalization modifies IF–THEN statements in accordance with specified business rules
. A simple example would be performing a particular action once a certain condition is met. For instance, if a visitor scrolls through five pages of shoes, the home page should display special offers on shoes during their next visit.
Under rule-based Sitecore personalization, it is possible to customize pieces of visual content, page layout, or both. To make this possible, you need to apply rules based on:
a visitor's geographic location

keywords customers use to reach your website

customer devices and traffic channels

behavior patterns (pages viewed, number of websites visited, time spent on each website, goals triggered, profile patterns matched, etc.)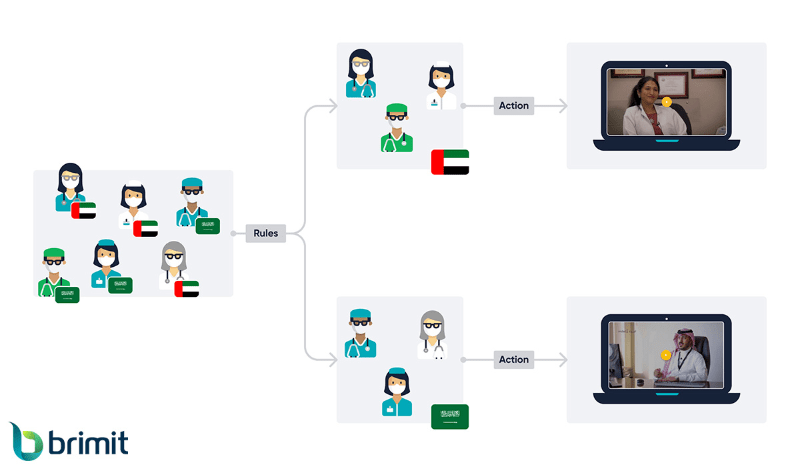 Scenarios for using rule-based personalization are limited only by the data available and your own creativity. Among the advantages is the ability to narrow down your offer to particular groups of people and handle recommendations more effectively.
How CRM-based personalization works
Using CRM systems to personalize customer experience involves a centralized approach to managing client data. By delivering a 360-degree view of information you derive from customer engagement with a website, CRMs allow you to store, process, and maintain this data in a single place. With CRM systems, you can build detailed customer profiles based on:
contact data (name, date of birth, gender, address, profession, etc.)
account data (valued customers)
purchase history and competitor products
favorite store categories
offline channel insights
Another major advantage of CRM-based personalization is its ability to use data that can't be acquired through website analytics, which highlight customer behavior patterns. Though such information sheds some light onto actions taken, it can't always account for the real reasons behind those actions. This can be misleading and result in poor decisions if interpreted incorrectly. For instance, time spent on a website may signal not only a genuine interest in a product but also confusing product descriptions that take customers a long time to decipher. The problem is that you never know until you ask.
To address this issue, CRM-based personalization provides the necessary tools. The missing pieces of data can be acquired through account-based marketing and market research. All of this requires an extensive CRM database of potential customers with detailed profiles. It's not enough to just submit text notes into a CRM system after sales calls. There should be a well-thought-out structure so that a personalized engine can make use of the data. An example of such a structure may include items under consideration (a product a potential customer is interested in), obstacles (reasons that prevent a customer from ordering a product), and competing products (alternative products on the market). Such key insights are at the very core of personalization.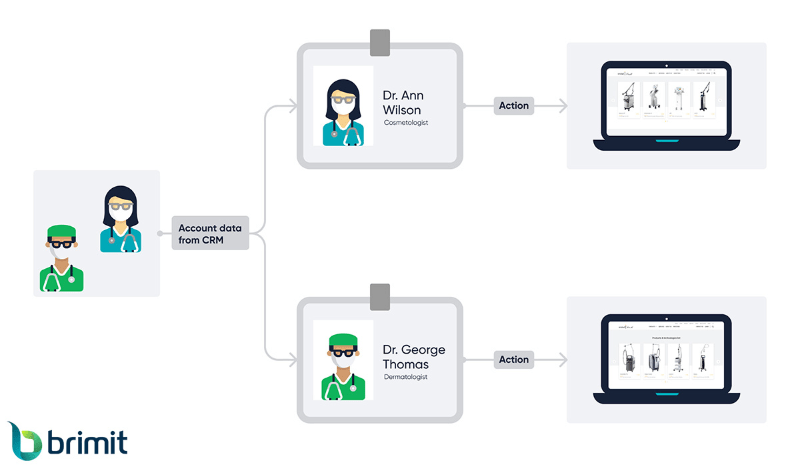 In addition to centralized management of the data acquired, using CRM systems to personalize the customer experience enables you to automate a great deal of mundane tasks. This includes triggering personalized email distribution and automated follow-ups, monitoring and analysis, segmentation, etc. Finally, you can further boost the efficiency of a personalization strategy by integrating other marketing tools of your choice with an existing CRM.
Out of the box, Sitecore supports the Salesforce and Microsoft Dynamics CRM systems.
User identification
One of the biggest roadblocks to personalizing customer experience is user identification. The truth is that most users prefer to remain anonymous, and they need a really compelling reason to share personal data. Furthermore, retrieving data from multiple sources and putting all the pieces together in a meaningful way is no simple task.
To address these issues, you can make use of Sitecore's Email Experience Manager (EXM), which was designed to facilitate content creation and delivery. This module also helps create highly personalized email campaigns.

With EXM, you can send out an email with a link to a website. When a customer clicks on this link and visits the website, the module automatically identifies the user and associates him or her with a particular email address and CRM account. A user can also be identified upon filling out a contact form, logging in to a personal account, or registering on a website.
Compliance with regulatory laws
For obvious security reasons, the digital age calls for regulating how data is gathered and processed. A number of regulatory laws and standards exist throughout the world. For instance, the General Data Protection Regulation (GDPR) has been in force in Europe since 2018, while the US has a number of information privacy laws—including HIPAA, FCRA, and ECPA—that have existed for quite some time.
Compliance with these regulations is a must for ensuring the legitimacy of your approach to personalization. Let's explore how to make sure your CRM-based personalization is GDPR-compliant.
Establish transparency in data processing. This is one of the GDPR's major requirements. It grants users the right to know how their personal data is handled. To comply with the GDPR, you need to work out a privacy policy that clearly explains the mechanism behind data processing on your website and enables users to provide or withdraw consent.
Ensure your cookie policy is accessible for all users. The visitors on your website should understand what cookies are used, what purpose they serve, and how to opt in or out.
Implement a regulation-compliant mechanism that will enable a user to either accept or reject the use of cookies on your website. User consent should be obtained prior to enabling cookies on the browser (strictly necessary options are exceptions to this rule). A user should have a clear understanding of what cookies will be used and how they will be used. He or she must be able to withdraw consent or customize which cookies can be used on your website.
However, these are not the only measures to be taken. First and foremost, you should analyze your business needs against the information you need to get from users and work out a privacy policy that will allow you to do so lawfully.
Integrating a CRM system
Though Sitecore features out-of-the-box support for Salesforce and Dynamics, integration of a CRM system may require additional tuning and customization. For this purpose, Brimit developed the Experience Add-in, which helps improve online behavior insights. Its functionality allows users to:
get additional personalization opportunities based on omnichannel data
manage Sitecore contact subscriptions and personal automation plans
adjust a Sitecore contact's behavior profile from a CRM to amplify personalization
connect forms' data to CRM objects within minutes
configure bidirectional contact mapping by specifying the data to be synchronized with your CRM
get forms and contact data updates in real time
The add-in is deployed as a Sitecore app, integrates directly with Sitecore xConnect, and is secured by Sitecore authentication.
A provider of clinical equipment triples form submission
It takes more effort to enable CRM-based personalization compared to rule-based, as in most cases data is gathered manually. The good news is that the effort truly pays off. Let's take a look at a real-world example.
With 28 years of experience in the Middle Eastern market, Imdad is a provider of cutting-edge clinical equipment for aesthetic medicine. The company has 16 offices in 8 countries in the region and serves 2,500 clinics. Imdad can boast of installing 5,000 devices at clinical facilities that provide quality treatment for over 20,000 patients daily.
Related customer story
Digitizing a Sales Process for a Clinical Equipment Provider
Equipment provider
Sitecore
Brimit assisted Imdad in working out a comprehensive digital strategy that ensured a highly personalized user experience and improved lead generation. This involved integrating the Salesforce CRM with a Sitecore-based website and tailoring personalization. This was a very interesting case as Imdad had to comply with the various legislative restrictions and market peculiarities of the 10 countries where it operates. For instance, such restrictions prohibited the display of certain aesthetic medicine services on Imdad's website.
Using Salesforce Sales and Service Cloud, over time, Imdad was able to collect massive arrays of data about accounts and contacts. The information shed light on the location of each account, the names of decision-makers, the professional occupations of contacts, and competitors' products installed at clinics and hospitals. This helped Imdad to obtain data about nearly 100% of the clinics and hospitals registered in its CRM—which was crucial for further personalization. Brimit helped the company deliver personalized product recommendations based on purchase history, competitor products installed, offline communication, and market insights. This became possible with the combination of behavior- and rule-driven personalization, as well as integration with a CRM.
As a result, Imdad has seen a 160% increase in traffic. (In May 2020, the traffic numbers tripled, which was a real win for a business fighting the consequences of the COVID-19 pandemic.) Furthermore, form submissions tripled, and 11% of marketing-qualified leads generated by the website got monetized, an impressive achievement for capital equipment sales.
It's time to stop having second thoughts and invest in personalization. It definitely pays off—in terms of both customer loyalty and revenue.
About Brimit
Brimit is a Certified Sitecore Partner that can amplify the
digital experience platform
for both Sitecore users and independent vendors. We provide
Sitecore integration services
for automating business processes that involve various types of vital systems, including CRMs. To connect Sitecore with Dynamics 365 and Salesforce CRM, we use our own product—Sitecore Experience Add-in—while other CRMs can be integrated with Sitecore using a custom connector.