This year European SharePoint Conference came to Vienna and, of course, Brimit team could not miss the event. The world's leading speakers in the SharePoint and Office 365 space gathered in the capital of Austria.
We'd like to share with you some key points of the ESPC2016.
The conference opened with Dan Holme, Mike Ammerlaan & Chris McNulty from Microsoft, USA. We enjoyed the demonstration of the new modern UI for OneDrive and SharePoint. As of now, modern document libraries have an updated user interface that offers clean UI and simple sharing as well as collaboration functionalities.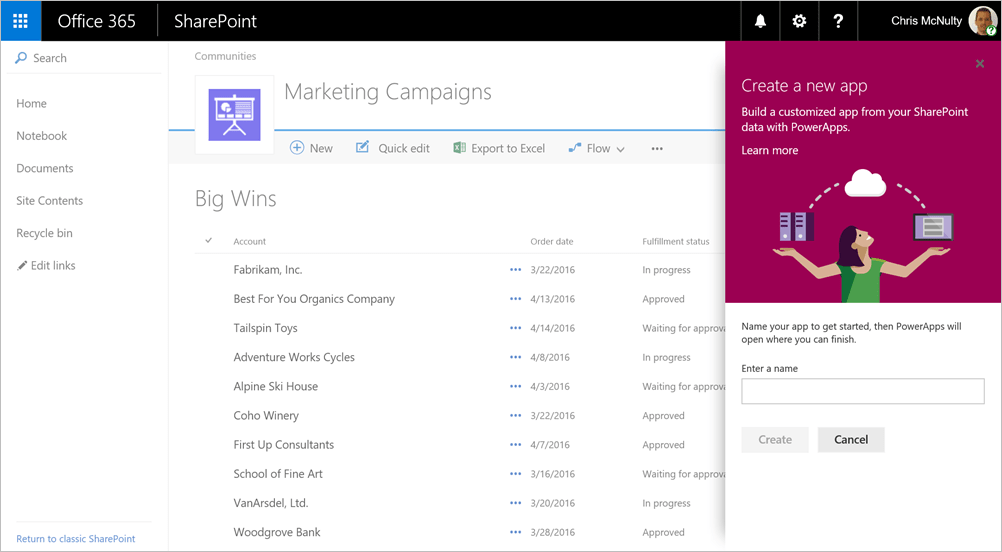 During the keynote, we also found out more about the SharePoint mobile apps. "Your intranet in your pocket" – as SharePoint announced earlier this summer. It provides quick access to your team sites, organization portals and resources and even a view into what the people you work with are working on. We think, what's great about the SharePoint mobile app is that it works with SharePoint Online, SharePoint 2013/2016 on-premises and in hybrid environments.
There's a cool improvement about OneDrive that we liked as well: now you can easily mark one or more items as "offline available", which starts an instant download to your mobile device. Once you reconnect, updated OneDrive synchronizes online versions with the changes you have made offline.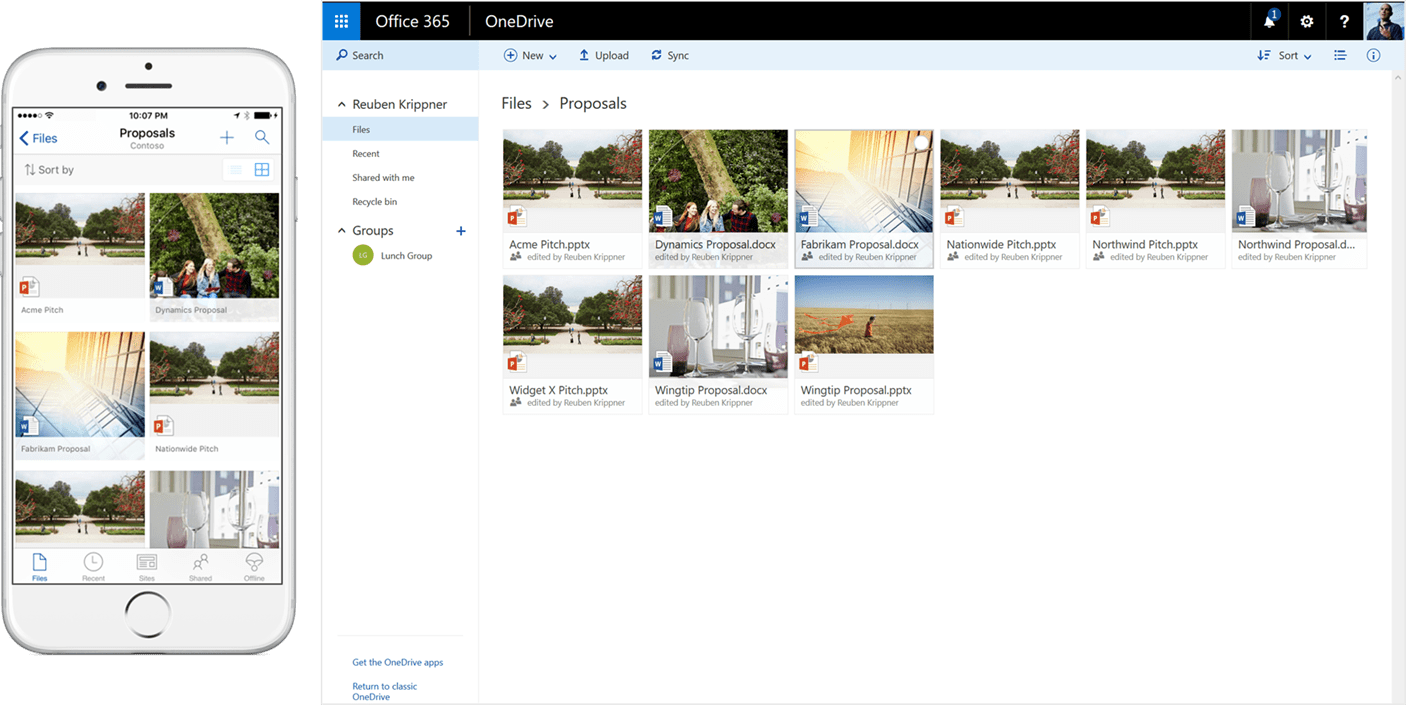 There's been also a preview to the new Microsoft Teams that were unveiled in the beginning of November and it is expected to be released in the first quarter of 2017. It offers a collaboration space for teams with shared files, a team calendar, and a forum to exchange information. Besides, it has a chat function and users can easily start video conferences without needing to jump between tools. In addition, Microsoft Teams is integrated with the Office applications and is built on the Office 365 global, secure cloud.
As we know, earlier this year Microsoft announced the integration of PowerApps within the SharePoint Online modern experience for custom lists and the ability to create new applications in PowerApps using a web browser. In PowerApps, you can generate an app automatically, customize it, create an app from scratch, share and run apps that you create or that others create and share with you.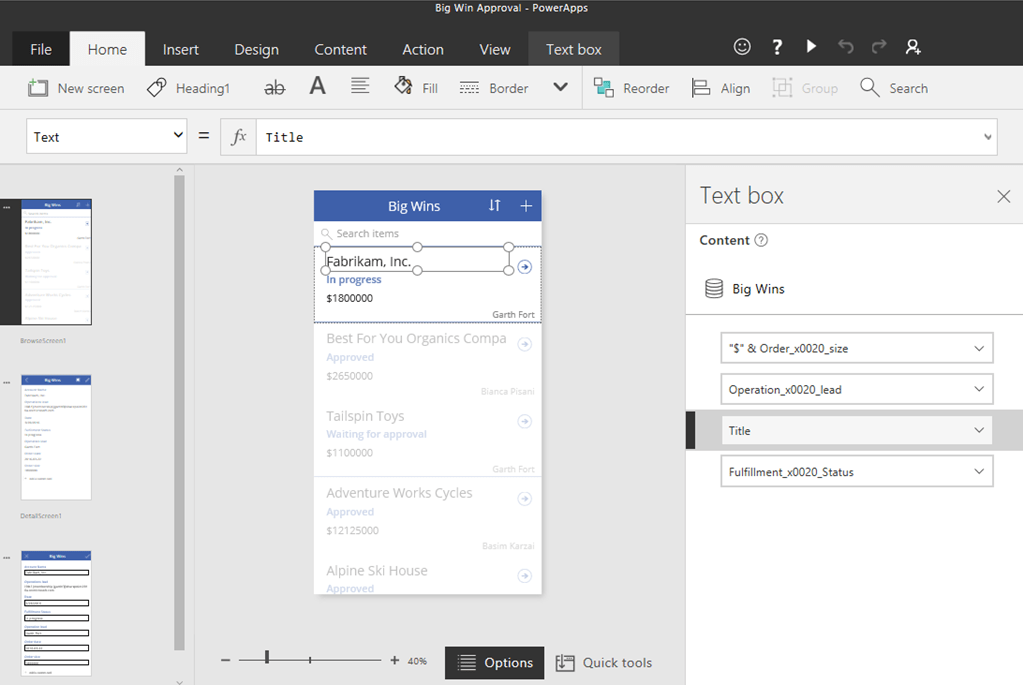 Another great tool, as we see it, Microsoft Flow is now available -- a new cloud-based service that helps to automate tasks and business processes across multiple applications and services. You can create flows directly from your phone: browse, navigate, search by keyword, select a category and many more.
Some tangible examples of how greatly all these tools can be connected with IoT devices we were able to observe during Michael Greth's session, which we liked a lot.
Many changes have been made to on-premises version of the product. Things like MinRole, Zero Down Time patching, improved Hybrid Solutions, Data Loss Prevention policies, Durable links, etc. They will significantly improve developer and business user experience, as well as show that SharePoint on-premises is still in demand. However, a few years ago, future of the SharePoint on-premises was uncertain, when Microsoft announced its cloud-first strategy.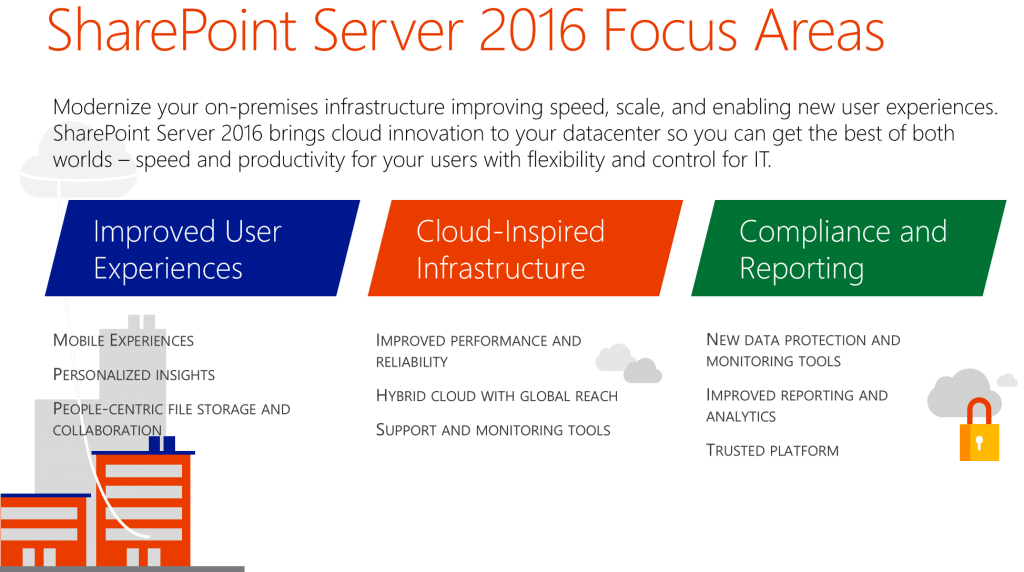 Now, with MinRole feature SharePoint administrators can define each server's role in a farm topology. The SharePoint wizard will install only what is required for a specific role, it will also check server compliancy. As for Zero Down Time patching, you can upgrade and patch SharePoint 2016 environments without going offline.
Hybrid in SharePoint Server 2016 lets you integrate an on-premises farm with an Office 365 tenant, allowing users to utilize extra features of Office 365 like Delve, Video, Groups, Power BI. With Hybrid, you can get an integrated experience now, while using SharePoint Server and SharePoint Online sites. For example, you can follow both on-premises and online sites and see them gathered in a single list. All users have a single profile in Office 365. OneDrive for Business in Hybrid solutions lets you access all files through Office 365 from any device.
Worth mentioning are some changes that have been made in search for Hybrid solutions. With new cloud hybrid search solution, you can easily get consolidated search results from both on-premises and Office 365 indexes, while querying the index from Office 365.
Here is what we've learned about the Feature Packs. Earlier this year Microsoft announced its timeline for SharePoint and Office 365, and now we do not have to wait another 3 years to upgrade our SharePoint on-premises environments to get all new features from the cloud-base counterpart! Microsoft is going to deliver new things via Feature Packs. The first such package has been released in late September 2016, the next one is promised in Q1 of 2017.
Furthermore, we've been talked through many enhancements for security, policies and compliances, like Data Loss Prevention policies (or DLP) which SharePoint 2016 now contains. DLP, for example, allows you to set the rules as to what can be treated as sensitive data and restrict this data to be visible to everyone.
There are a few small other improvements that, in our opinion, business users may like. Durable links feature helps to save links unchanged when documents are renamed or moved in SharePoint. SharePoint now supports extremely large files (10GB by default and can be configured to upload even larger files). File names are now expanded to support special characters that previously were blocked.
In the past several years, we have observed how rapidly client side development model evolved. Now we see tons of JavaScript frameworks that help you to build complex user interactions in a browser. JS language and performance have advanced substantially these days. SharePoint could not ignore these trends, and this spring Microsoft announced a preview for the SharePoint Framework (SPFx). SPFx presents new development model that enables fully supported client-side development, lets developers easily integrate applications with the Microsoft Graph and provides support for open source tooling.
The modern UI experience described above is built on the SharePoint framework. Now the framework is available only for Online edition, Microsoft says it should be available for on-premises installations next year.
ESPC2016 was a great summary of what has been done by Microsoft this year. We have seen that software giant clearly follows its strategy announced in May -- cloud and mobile first. All the new enhancements and services like new mobile apps, Flow, Teams, OneDrive for business improvements are great example of that. It's becoming also clear that though overall SharePoint direction is to cloud, Microsoft understands importance of on-premises version of the product and this version of SharePoint will still be supported.
Let us know what you liked about the SharePoint Conference.