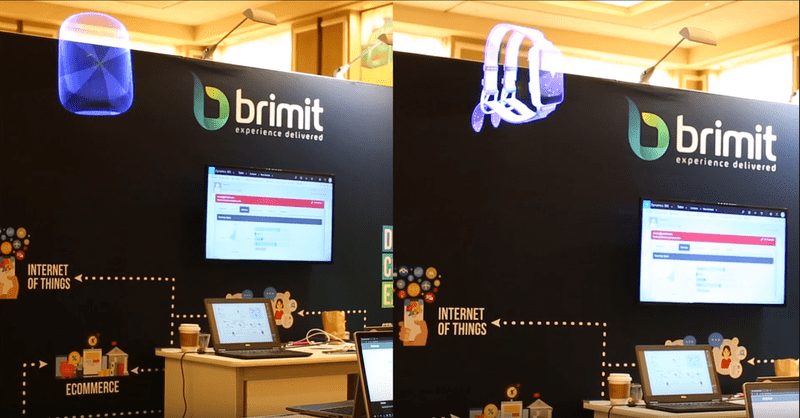 Symposium Demo and a hidden gem: Sitecore Message Bus
This year Brimit showcased its new Experience Add-in for Outlook and Dynamics (Salesforce Add-in to follow shortly) with a highly interactive and eye catching demonstration presented during this year's Sitecore Symposium in Orlando, FL. This article outlines the concept of the demo and reveals some technical solution details.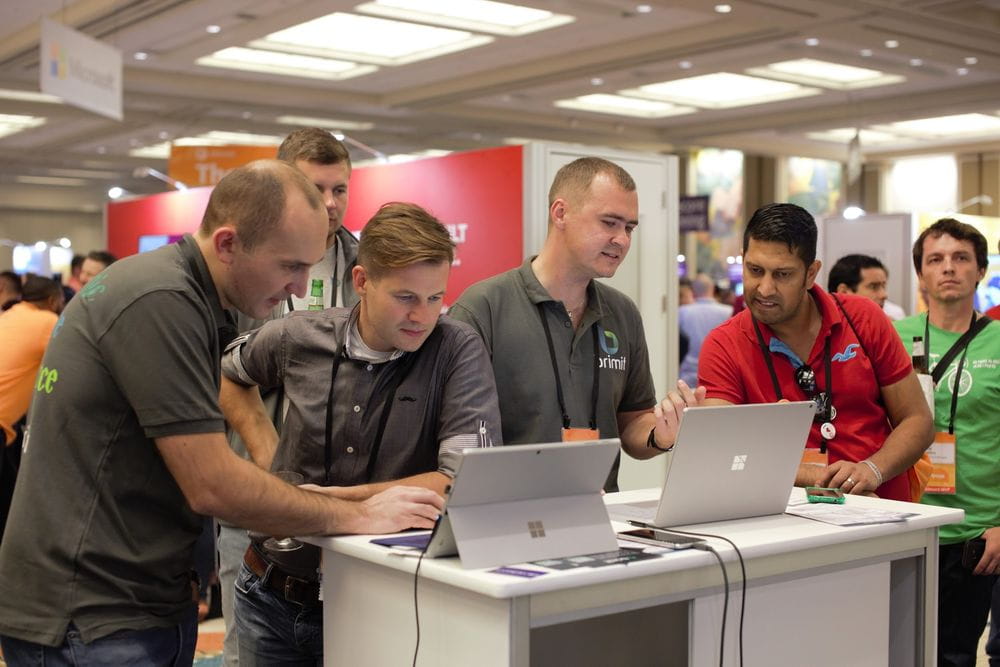 A customer journey spans many touch points across a variety of online and offline channels. It is important that companies can bridge any gaps that exist between these channels. Sitecore clients have the best in class technology to enable omni-channel experience while very few clients have adopted a true omni-channel strategy. It is not enough to just establish presence in multiple channels and record interactions within Sitecore xDB, it is critical to enable seamless transitions between channels while maintaining optimized and personalized context throughout the customer journey itself.
The demo presented by Brimit during this years' Sitecore Symposium featured a smooth transition from online commerce to offline in-store experience. Brimit used a device called HyperVSN ,which offers an innovative holographic 3D visual experience for the customer as an alternative to traditional offline channel displays.
The content presented by the HyperVSN device was personalized based on products purchased online and customer experience profile available in Sitecore Experience Platform.
For example, a man with a Business Development profile who purchased an Android device online was offered a space gray Samsung Gear S3 hologram offline, while a woman with a Marketing profile whom purchased an Iphone was presented with orange Apple Watch hologram.
Sounds easy? True, but such experience transition requires a number of technologies put together to make it work.
Sitecore Experience Platform has a built-in Message Bus technology, a hidden gem; however hardly used because of the lack of documentation and regretfully very few posts. The Message bus is a message transport mechanism which allows Sitecore application roles to communicate across boundaries.
Omni-channel strategy will require different Sitecore roles and external systems like CRM and Apps to talk to each other, contribute to contact the experience profile and to orchestrate experience optimization.
Message bus mechanism becomes extremely important in enabling omni-channel communication.
The below diagram illustrates the extensive use of Message Bus in our Symposium demo. (More posts will follow shortly regarding implementation details).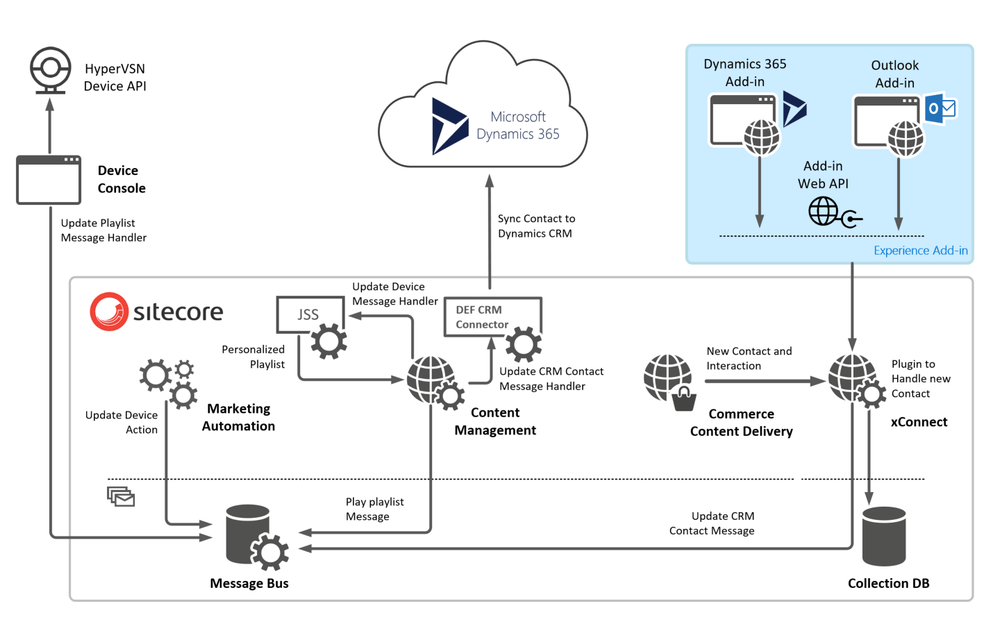 Communication between xConnect and Dynamics CRM via Data Exchange Framework.
Every time a change is made to a contact, we want to update such contact changes in Dynamics CRM using Data Exchange Framework. Out of the box, DEF can sync a list of contacts on schedule and can run on CM role. xConnect is a primary interface for any contact changes however it does not have access to CM role for DEF call.
Brimit created an xConnect service plugin to capture AddContactOperation and SetFacetOperation in xConnect. This xConnect plugin saves SyncDynamicsContact message to Sitecore Message Bus. Simultaneously a message handler was implemented on CM role to handle such message and push contact changes to Dynamics 365 using a Data Exchange Framework API.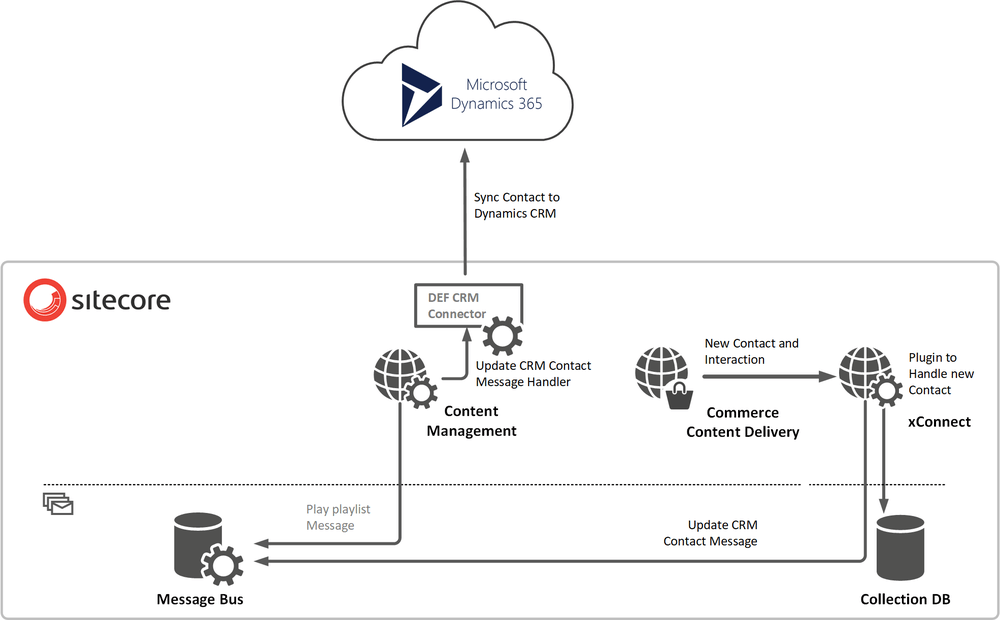 Communication between Marketing Automation and a third party device API
Every time a customer enters a store we want to update the HyperVSN offline device with a recommended product based on products previously purchased online. Obviously, we want this offline experience to be in control of the marketer, Sitecore Marketing Automation is a good place to start. Check-in information is submitted directly to xConnect and it immediately enrolls the contact to the following marketing automation plan.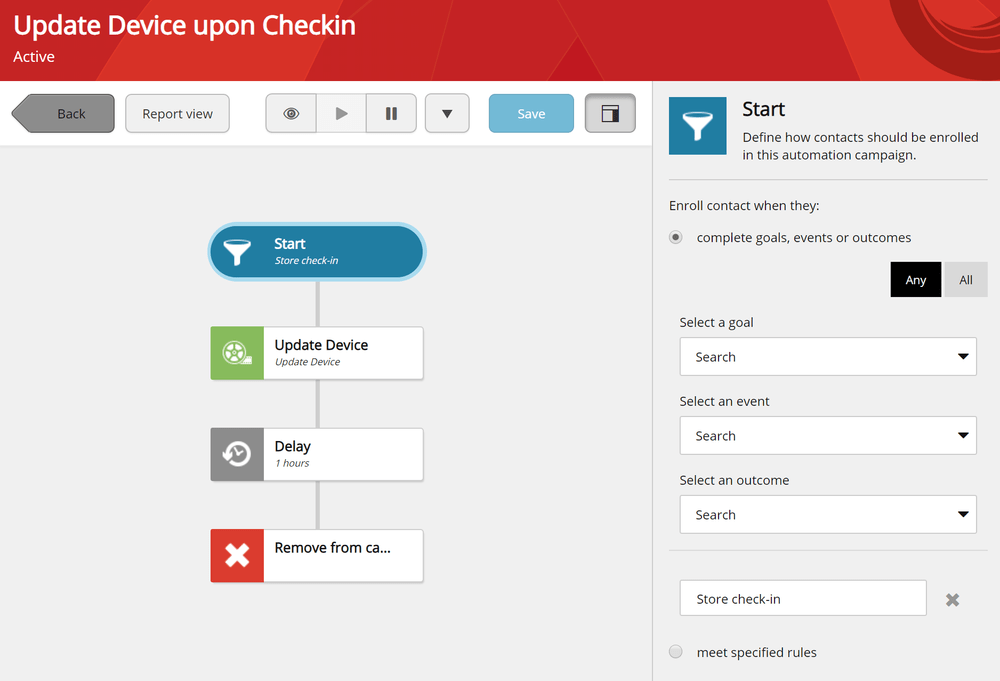 Update Device activity is a place where the HyperVSN hologram will get updated according to the individual customers profile and purchase history - allowing to show the recommended products.However, Marketing Automation engine does not have access to any content database (i.e. personalized HyperVSN playlist) and does not have access to offline device API.
Sitecore Message Bus comes to rescue.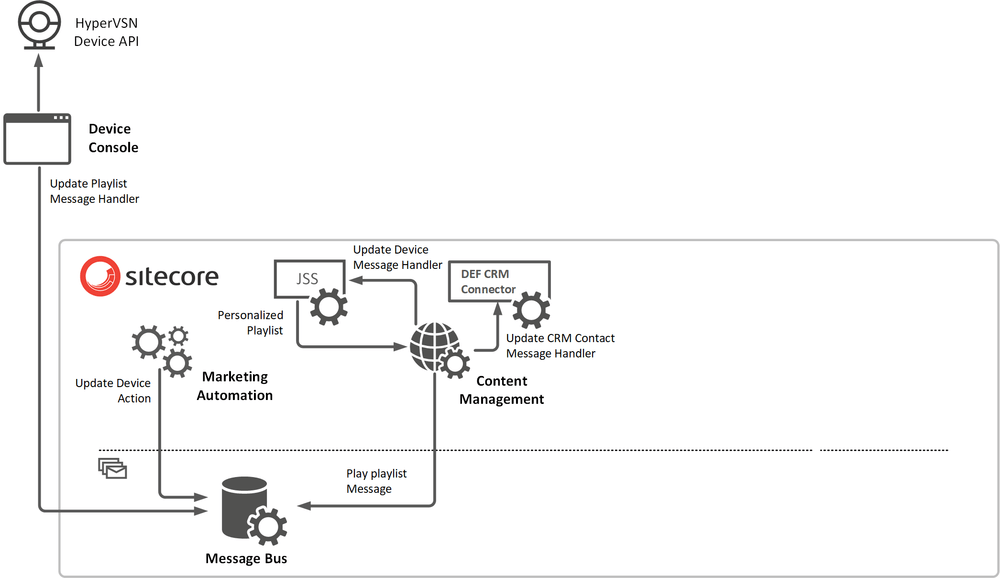 Just like Marketing Automation processes Send Email activity type (triggered EXM message) by adding a AutomatedMessage message to the Message Bus, Update Device marketing automation activity type submits a message to Message Bus to UpdateDevice. A handler on CM role picks up UpdateDevice message and requests JSS Layout Service to get personalized content. Once personalized content is received a new message is saved to Message Bus to SetPlayList.
The device console is connected to the same Sitecore Message Bus to process SetPlayList message thereby updating the holographic content using a HyperVSN device API.
On average it took 8-10 seconds to visualize personalized holographic content after the customer's action on the website or when a change is made to the Sitecore Experience Profile in Microsoft Dynamics CRM.
Our demo showcases the use of xConnect, Marketing Automation and Message Bus to enable seamless omni channel transition, while utilizing headless technology in the context of customer journey.
Do you need help with your Sitecore project?
VIEW SITECORE SERVICES