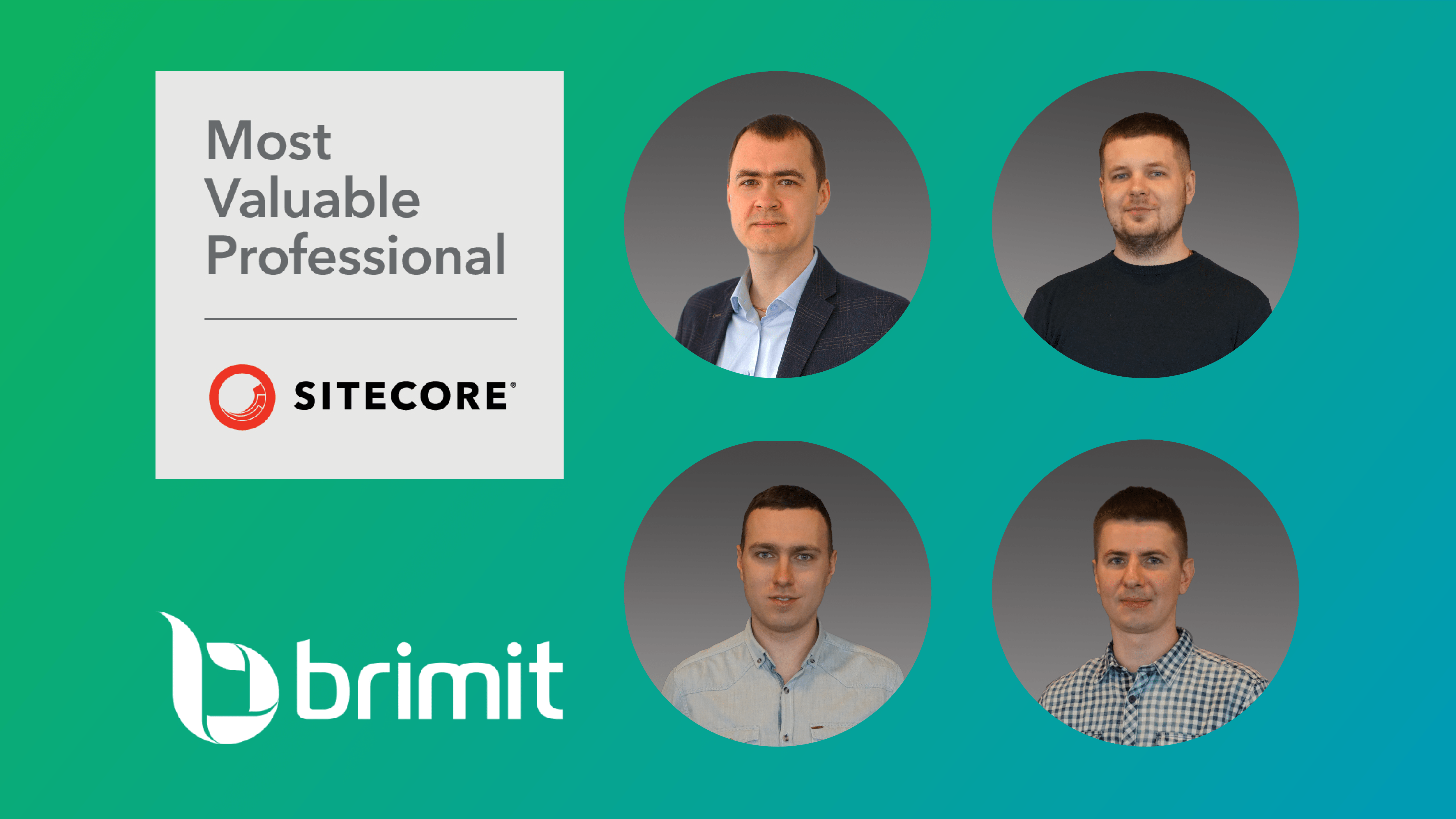 An elite distinction for commitment and dedication to the Sitecore community
MINSK, Belarus — January 31, 2022 — Today, Brimit announced that four of its team members have been named Most Valuable Professionals (MVPs) by Sitecore®, the global leader in digital experience management software. Our colleagues were recognized as Ambassador, Technology, and Commerce MVPs and became four of only 235 Sitecore MVPs recognized worldwide this year.
The MVP program is now in its 16th year. It recognizes professionals within the Sitecore community who actively apply their talent and expertise to help others utilize Sitecore products to deliver prime customer experiences. Of more than 16,000 certified developers and over 30,000 active community participants, the 235 MVPs are truly an elite group. This year's MVPs were selected for the quality, quantity, and impact of the contributions they made in 2021, including the sharing of product expertise and mastery of the Sitecore platform to support both partners and customers.
Meet our MVPs
AMBASSADOR
Alexei Vershalovich — Managing Director, Co-founder, and Sitecore consultant
"Sitecore has a great community. The company values MVPs' and customers' feedback and improves its products, which helps all of us. For example, the company promptly switched from a monolithic platform to a сomposable DXP in just a year. Sitecore's product portfolio contains all the tools for mid-market and enterprise companies in any industry. This year, I will continue to develop the Sitecore community and Brimit's expertise in Sitecore products. This will help us implement Sitecore products for our customers in the best way possible."
TECHNOLOGY
Sergey Baranov — Senior Sitecore Developer
"I admire the fact that Sitecore is moving to SaaS. Last year, Sitecore acquired some remarkable digital platforms–Boxever, Four51, Moosend, and Reflektion, to name a few–which creates lots of room for gaining new experience, improving my skills, and creating my own solutions that contribute to the Sitecore community."
TECHNOLOGY, COMMERCE
Andrei Paliakou — Sitecore MVP/Lead Developer
"I got my first Sitecore Commerce MVP award in 2018, making this my fifth award. I started exploring Sitecore solutions for e-commerce five years ago with Sitecore Commerce, and now I'm glad to continue exploring Sitecore's e-commerce track by taking on OrderCloud. It's nice to see that the community is growing; this year, I'll continue contributing to the community and sharing my expertise in Sitecore Commerce and OrderCloud."
TECHNOLOGY
Artsem Prashkovich — Sitecore MVP/Lead Developer
"Last year showed that the headless approach is evolving rapidly. From my point of view, it is becoming the primary approach for building modern, composable DXP solutions. And the number of Sitecore acquisitions, all of which are headless or SaaS, is proving that more and more. This year, I will continue working with JSS and headless architectures, while paying special attention to new systems such as ContentHub and CDP. My role involves searching for technological solutions to business challenges during Sitecore implementations, and I will continue to share my experience with the Sitecore community whenever possible."
Brimit is a Sitecore Gold Partner. We have organized Sitecore User Group, a local community of Sitecore enthusiasts for sharing knowledge and best practices. Brimit regularly participates in Sitecore events such as Sitecore Symposium and SUGCON and is currently working on a number of platform-related projects. Find out more in our Sitecore project portfolio.
"The Sitecore community is one of our greatest assets. It's a highly collaborative environment where members freely share knowledge and insights across numerous channels and at events," says Dave O'Flanagan, Sitecore's chief product officer. "Sitecore MVPs stand out as community leaders who are dedicated to helping others build greater digital experiences for their organizations and customers. They are an invaluable resource and an important part of the Sitecore user experience, for which we are truly grateful."
More information can be found about the MVP Program on the Sitecore MVP site: http://mvp.sitecore.com.